Right now, I'm reading a few books, but most notably I'm trying to finish one. The Round House, by Louise Erdrich, has been a great, although slow, read so far. I'd say I'm about 80% through it. A novel, it's about a 13-year-old Native American boy whose father is a tribal judge and whose mother had a very violent crime committed against her. One of the questions has to do with how to try the accused, given that the mother doesn't recall if the crime happened on tribal land. There's another mysterious element in it, which took its sweet time to reveal itself. I have been reading this for weeks, and though I like Erdrich and I like the story and I think the main character, Joe, is compelling, I can't seem to get through the damned thing. Luckily it's a library book, so I have a deadline to get it read.
I cannot believe I did not realize that Louise Erdrich lives here in Minneapolis, nor did I know that she owns and runs Birchbark Books. I'm embarrassed that I didn't know that!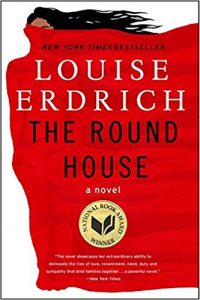 Oo, also: I'm in my "I get to read scary books because it's almost Halloween" piece of the year. I have It waiting for me at the library.
My own writing news is that I've had a story accepted for publication at Flash Fiction Magazine. It will be out on October 27.
As far as new-to-me music goes, I'm really liking Chet Faker (or as he's known now, Nick Murphy). Just sayin.